The first hint of a problem was when my wife called me as I was heading in from the route.  Our sturdy S10 Blazer wasn't running right; it had stalled on an overpass coming home.  I headed straight home, parked the work truck, and jumped in the Blazer to take it for a spin to see exactly what was wrong.  It was the Friday of the weekend of my daughter's church High School Winter Camp , the last one she would have as a High School Senior. It was a priority.  I was a little more than an hour away from the scheduled meeting time to take her and three friends on the hour and a half long trip up to the mountains around Running Springs, like we had a dozen times before.
I headed for a steep street up a hill near our house to stress the engine to see if the problem would repeat itself.  Halfway up the hill and a little on the accelerator and the engine started stalling out.  Turning around and stopping at an intersection, it stopped.  I started it up again and pulled over.  I knew the Lord was perfectly aware what was going on, so quickly prayed for some immediate directions.  The day was already upon us and the clock was ticking.  It was now under an hour left till we were scheduled to leave at our usual time to beat the horrific Friday night traffic region wide.
I got on the phone, made a few quick calls to some people, than settled on taking it to our regular mechanic shop, the owner and the mechanic being there with nothing going on.  I reported in with the family and then the mother coordinating the trip with the other girls I was tasked with taking.  She was assuring and said they would be praying for the situation.
I headed to the shop and they initiated a quick diagnoses with the computer and started narrowing down the problems.  It was electronic, which could be simple, or more complex.  Under the circumstances, we opted for an initial repair which took about forty minutes waiting for the part to be delivered, and I took off.  I was a half block away and about to call my daughter to be ready out front when the engine started stalling again.  I wheeled around and headed back to the shop.  We found a few more things wrong which was going to take a little longer.  With intermittent phone calls back and forth to report in with all involved, and now almost two hours behind, when the Blazer was finished the mechanic and I ran high speed quarter-mile runs hard up and down the empty street past the city dog pound.  It was running great.
I headed home, loaded up my daughter and her gear, and we headed to her friend's house in the town close by.  Three more girls and their substantial gear on board, we crawled onto the now very crowded freeways and headed east.  At a crawl, it took us almost an hour to get through to Redlands and on highway 30 heading for the highway 330 mountain resorts turn-off and bearing up into the mountains.
Then it happened.  On the stretch of highway 30 and increased speed, the RPM gauge started bouncing and the engine balking.  It was quickly evident the usually dependable Blazer wasn't going to be able to handle the demanding mountain road.  We had missed something, because I was right there with the mechanics through the whole afternoon.  Yet I wasn't going to be stuck on the side of the road in the wilderness of the San Bernardino Mountains with four teenagers who had to be at the top of that mountain an hour ago.
We pulled into a busy McDonald's parking lot off the highway at the base of the mountains in the encroaching darkness and stopped.
I knew the Lord wanted these girls at that winter retreat.  I knew the enemy was opposing hard this weekend event happening in these girl's lives.  The mother I mentioned who was coordinating the trip mentioned that and said they had prayed for me and the already fast moving string of hurdles.  So if the enemy was opposing it, the Lord and I were just going to have to roll over him.
Still, I knew my position was now effectively overrun.  And I knew instinctively to start aggressively moving forward to resolve this.  A promise of God says, "There hath no temptation taken you but such as is common to man: but God is faithful, who will not suffer you to be tempted above that ye are able; but will with the temptation also make a way to escape, that ye may be able to bear it."   It was time to send up a flare and get some "rounds going down range."
I have friends; more than some; not as many as others.  Nonetheless, the type of friends I have are quite different than most.  They are Godly men.  I had already made contact with the wife of one earlier on.  Now, the very first to come to mind lived not too far away from where we had ended up.  I called his house—no answer.  I called his mobile phone and he immediately picked up.  He was fifteen minutes behind us coming home on the very same freeway we had just transitioned off shortly before.
"Where are you?" he asked.
After telling him I had four girls who needed to get up on the mountain for Winter Camp, flustered, I started chronicling in detail the events of the last six hours.
"I don't need to know all that, where are you?"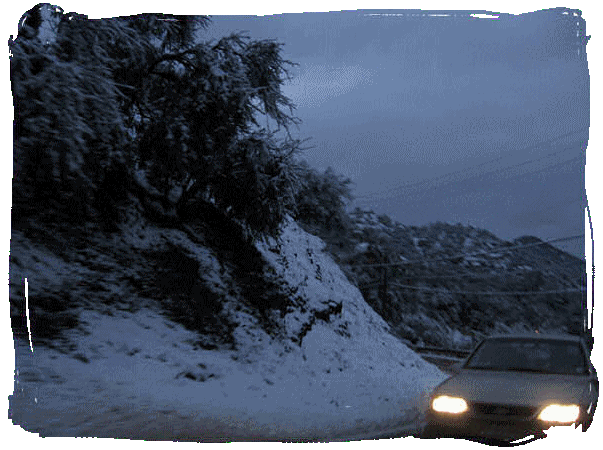 I told him, and his PT Cruiser pulled in behind us in half the time I had anticipated.  We started transferring the girl's gear and quickly realized there might not be enough room.  My friend said, "As long as the girls make it, that's what is important."  He and I were already on the same page.
We stuck one girl in the front with a suitcase and gear, and the other three in back on the bench seat, a long suitcase across their laps, sleeping bags in all corners, closed the doors and my friend got in with another bag on the console under his right arm.  It all had fit.  All I saw in back were three sets of eyes looking over the edge of the stuff.
There was no small talk; I said bye and they were gone up the cold, dark and foggy mountain road.  I got back in my car and headed the other way.  I had no concerns whatsoever as to the girl's safety or if they would make it or not.  They were probably safer with my friend than their own parents on that drive to the top.  They were four little lambs in the custody of a Sheepdog whose bite is worse than his bark and who had spent the better part of his early professional career defending the innocent.  They were simply as good as arrived.
I flew down the emptying freeways towards home in a car that now ran fine again without the extra weight, although with a "check engine" light on.  My friend called shortly after I got home, talking as he was jogging across a cold, snow filled parking lot at 6800 feet.  The call was merely a formality; a courtesy call.  The girls were off-loaded and checking in and had not missed anything important.
The campaign wasn't over yet, though.  The mechanics were gone for the weekend.  I still had an ailing car, and a commitment to get these girls back home.  What is more, the biggest of a series of winter storms we had already experienced was heading in Sunday.  Although the weather services were predicting a fifty percent chance of rain, the mountains were a different story.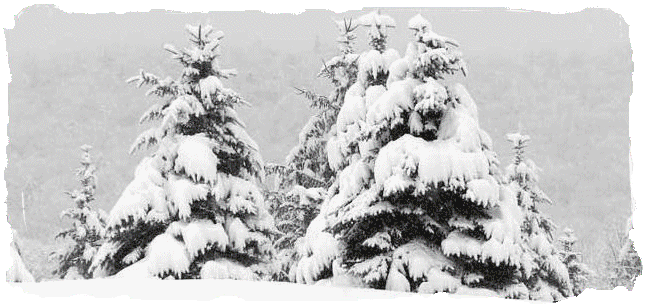 The following day I called the other friend I mentioned earlier and laid out was going on and could he assist.
"Well... yeah!"
We were to meet in the morning after he got out of Sunday church with his kids.  His wife was hosting a baby shower.  I went out early to a local auto parts store to purchase a set of chains, because earlier I had checked the CalTrans site and there was now a mandatory chain restriction on the 330 highway into the mountains.  I didn't know my friends' SUV's tire size, and as a Southern California boy knowing nothing about snow chains, just grabbed the biggest set they had.  They told me if they were the wrong size, I could exchange them.
My friend showed up right on time, we turned custody of his kids over to my wife and young son, and we headed out.  Stopping back by the auto parts store, I now had my friend's tire size written on my hand.  We had to have chains because from a phone call from my daughter and a call to the mother coordinating the trip, parents had already been turned back down the mountain by the California Highway Patrol (CHP) at their chain enforcement checkpoint.
Quickly returning to the auto parts store I had been to earlier, the chains acquired earlier were way too small for his tires—and they didn't have the right ones in inventory.  We returned the small ones and went to the next auto parts down the street.  They had three sets left, none anywhere near what we could use.
We headed to the next store.  The girl behind the counter knew me well.  They had no chains whatsoever.  She got on the computer and started checking the inventories online from all the area stores.  Just one along our way listed one set in inventory.  She called for an inventory check—no, they didn't have them there.
She got on the phone—and found nothing else through her connections.  With the heavy snow and numerous winter camps ending that Sunday, snow chains had sold out everywhere.  Discouraged, she said we could try WalMart, which seemed like the logical direction, as they sell everything else.
We kept moving, probing the wall, back and forth, for the opening we knew had to be there.  Another big box retailer was across the street.  I told my friend don't even stop the engine.  I would just run in and check.  They didn't even carry snow chains.
As we were heading to the WalMart, I got on the phone and called information for another auto parts store I knew was on our way.  They had them. One set left.  I asked them to hold them behind the counter and we headed over there.  With the snow chains in the SUV, we had found the hole in the wall and piled through.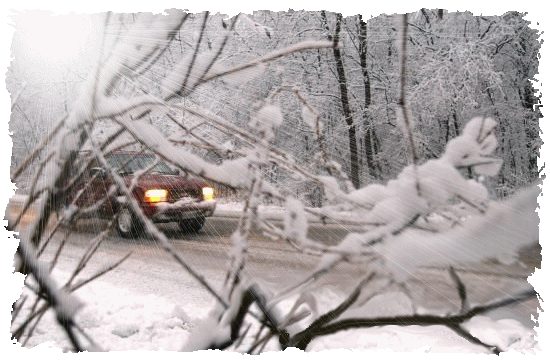 We were late, fielding calls from my daughter wanting to know where we were, and in the steady, light rain heading down the freeway straight for the mountain storm the interactive weather service web site I had accessed earlier portrayed graphically as a massive white and purple fringed fog (snow and ice) over the whole area we needed to get in to.
We then proceeded to stomp right up the mountain, in some of the worst cold weather driving I had seen in years, retrieved four exhausted, cold and wet girls, and turned around and stomped right back down.
The following morning out on my route and still in a frazzled state of mind, I looked out east to the ridgeline of the mountains we had been on fifteen hours before, now bathed in brilliant sunshine in the clear, cold air.  The chagrin continued as I sifted through the bits and pieces of plastic and metal electronic sensor gadgets peculiar to modern day engines, as later on the mechanics debriefed me on a now successful repair on the Blazer.  I was also contending with a bit of irritation in the wake of the events with the fact I didn't like to have to call people because, well—they call me.  Misplaced pride, I suppose, but the majority of the time Christian people will find they are more than equipped to face the daily challenges of life that come at them.  After all, "…His divine power hath given unto us all things that pertain unto life and godliness, through the knowledge of him that hath called us to glory and virtue…." (2Pe 1:3)
The immediate pay-off for us?  The weekend for the girls was exactly what they anticipated.  Musicians and worship music they enjoy, Biblical devotions, and a message from our Senior pastor.  Snow everywhere.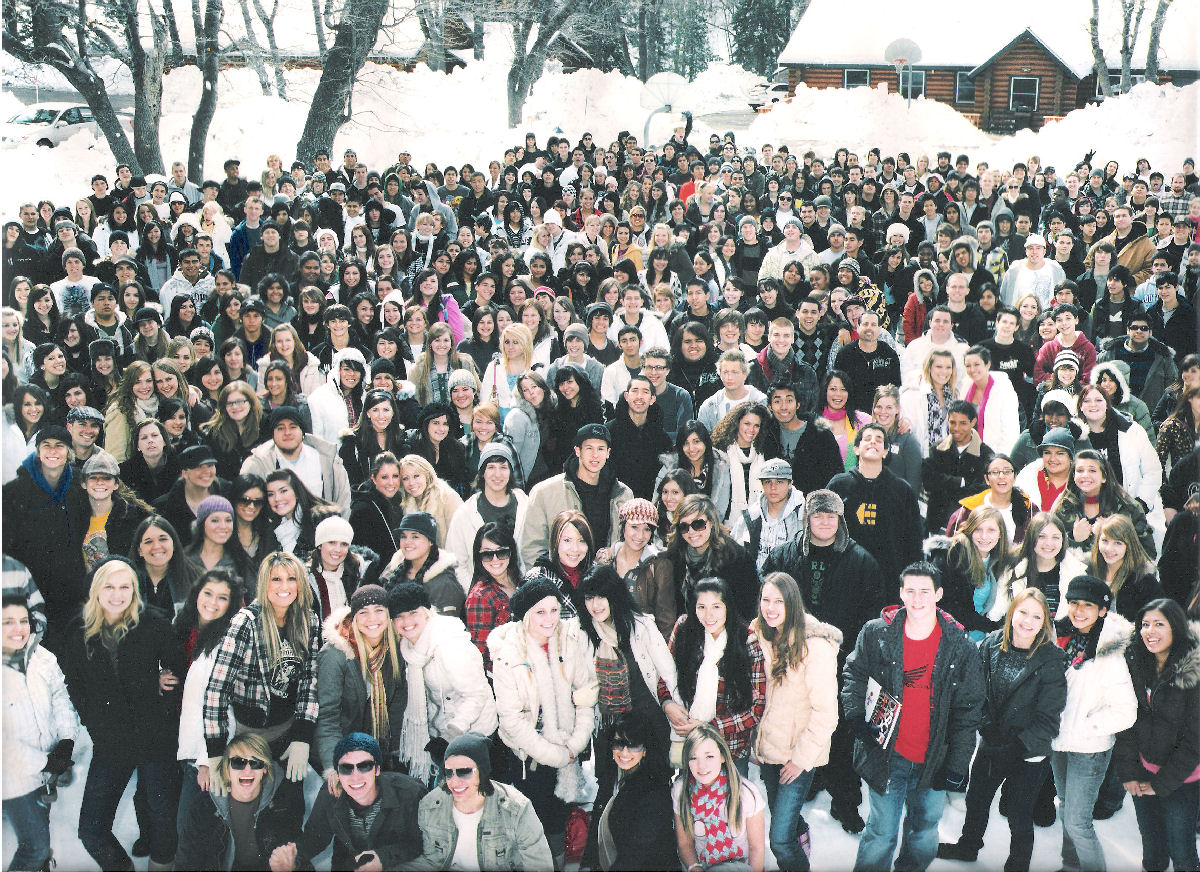 Tales of a snow ball fight which apparently rivaled the West Hollywood Bank Robbery shoot-out.  Just time far away from the pressures of the senior year in High School.  It was a time of great fellowship and great, great joy!  Good for them!
In retrospect, there was as much going on for me.  There is a proverb, a favorite of many people that says, "A man that hath friends must shew himself friendly: and there is a friend that sticketh closer than a brother." (Pr 18:24)   Many Christians infer this means a faithful Jesus always being there, as fickle man will "always let you down."  There may be some truth to that, but it is cynical.  I think the proverb is literally referring to a friend who sticks closer than a brother.  These two gentlemen are a good example.  Such friends, first of all, are from God, and I am grateful.  A tangible presence of God in my life, with a call they were in my personal arena and fighting the "good fight."
When I wrote "The Code of the Warrior," I counseled young men to "spend time with great men."  Not just any men, but great men.  This was not a whimsical, noble assertion of a Post-modern, retro "Monastic Evangelical" enthralled with the Hollywood celluloid fashionableness of depicting things such as honor, dedication, commitment, and duty as curiosities by mythical or untouchable and fabled characters in Christianity's, America's, and world history's past.  Hollywood, faux liberal Christendom, and media producers continue to rip these Biblical concepts off everyday from those who live them everyday—while at the same time marginalizing and mocking them out the other side of their duplicitous mouths.  Great men live them, while they can only imitate them—and deep down they know it, thus the latent hostility.
Rather, there are great men that still live and model these Biblical high ideals of service and duty daily.  For example, there are people who would have helped us in this weekend challenge, but would have made clear the "great sacrifice" they were making while very tired on a late Saturday night or being late for Super Bowl Sunday afternoon.  I certainly wouldn't have been near as confident as I was seeing them drive off up that mountain road in the dark with four kids who were my responsibility.  Deep down you would have "owed them."  They are hirelings, where the others are sons and warriors.
These two gentlemen the Lord fielded in my arena?  We said nothing.  I've learned not to interfere with righteous men as they go about storing up "…treasure in heaven" (Mt 19:21). They are not there for you at all, but in obedience to their calling and place in their Father's house, "being about their Father's business."  Called upon here and on the firing line, itineraries and routes were immediately changed, hurdles were targeted for defeat, and objectives were set for achievement.  So they were.
With the hearts of servants, and in situations like this scenario, they instinctively know they have been tasked by the Lord when called up like this: "The steps of a good man are ordered by the LORD: and he delighteth in his way." (Ps 37:23) "…And whosoever shall compel thee to go a mile, go with him twain.  Give to him that asketh thee, and from him that would borrow of thee turn not thou away." (Mt 5:41-42)  There are many more mandates like this these honorable men continually operate under; there for good or bad—the long haul—to achieve the objective.
Nevertheless, when we were unloading the girl's gear at our final destination in the afternoon, one of my daughter's friends, with a reputation of great integrity, always offers to pay something after a trip like this (my daughter is already running with her own friends of caliber).  As usual she approached me with the predictable twenty bucks in her hand.  I waved her off and pointed her to my friend—it was his rig, but I let her know with my facial expression how he would react.  He politely declined.  My other friend made the same thing clear as well.  They are not there for you, but something greater; living something greater.  Wanting to pay them only annoys them.  We have negotiated in the past an arrangement where she puts what ever seems fair in the offering plate the next time she is in church.  We all owe Him!  It applied here as well.
Except one time she made cookies.  I took those.
I suppose also, writing this one week later, what happened to us is instructive to the wider Spirit-filled Christian community today in America, especially in light of the current election cycle.  The offering being forced on us by the ruling political "elite" and media establishment as caliber and integrity is marginalized for "expedience" has certainly left me unimpressed, uninspired, and apprehensive of America's future position and positive influence in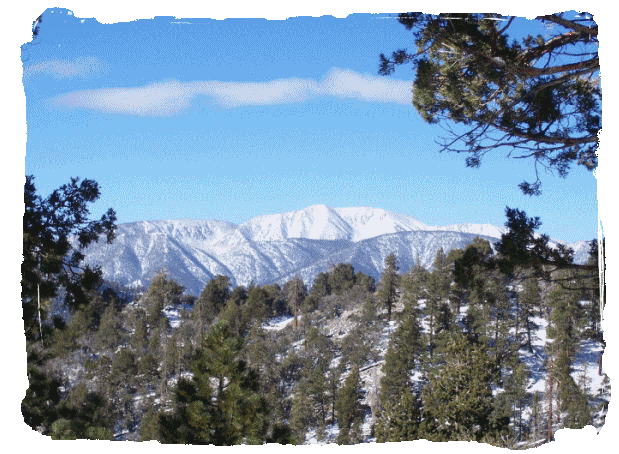 a hostile and suicidal world.  Where "change" is the buzzword—change meaning compromise and appeasement (or those coins left jangling in your pocket after they depart with your dollars) the elections in November of this year will potentially force some very radical changes in American culture and the nation's direction and relationship with friends and foes alike.  This trend towards appeasement is becoming more blatant in all quarters of Evangelical circles as well. 
I saw this apathy and trepidation I am sometimes guilty of reflected wider in the recent primary election results, especially locally.  Living in a traditionally Conservative county, where people know better, voter turnout was abysmal.  It does not bode well for the Presidential elections coming up, probably the most important in decades.
Then I recall this same tendency to complain, while shouldering the awareness of hardcore reality in the midst of national apathy, reflected in Elijah when he, fleeing from the corrupt leadership of Israel at that time, said in response to the Lord's questioning, "I have been very jealous for the LORD God of hosts: because the children of Israel have forsaken thy covenant, thrown down thine altars, and slain thy prophets with the sword; and I, even I only, am left; and they seek my life, to take it away." (1Ki 19:14)
The Lord than gave him clear instructions how to proceed and then chided him, "…Yet I have left me seven thousand in knees which have not bowed unto Baal, and every mouth which hath not kissed him."
As usual, the Lord is faithful, even under the most challenging circumstances, whether personally or nationally.  He always will be.  I am an eye-witness yet again.  We should continue to be faithful as well.  A few days running the mountains with a small contingent of the seven thousand made that perfectly clear and shows the unknown future will still be written by Him … and them.  Their decisions—ours—to continue to fight through to the goal deciding the outcomes of the most impossible situations.
"...And call upon me in the day of trouble: I will deliver thee, and thou shalt glorify me." (Ps 50:15)
---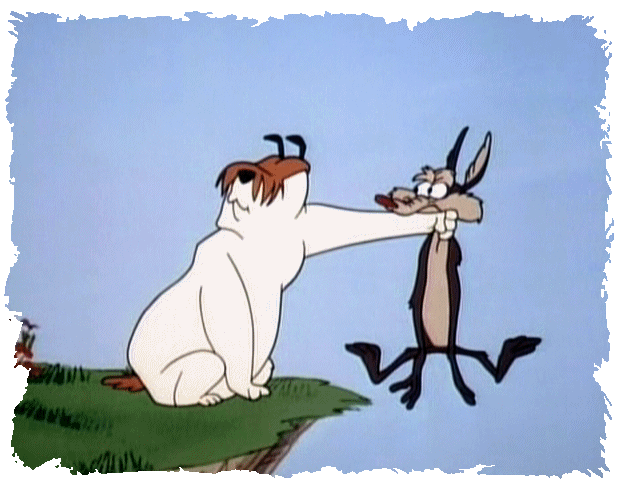 ---




To return to Salem the Soldier's Homepage, just click on the 'S'


All personal commentary articles copyright ©1996-2008 Michael A. Baker
Full reprint with written permission only, except for the inclusion of brief quotations in a review or article. This material is copyrighted to prevent altering or reproducing for profit. Permission is granted to the reader to forward all writings from "Salem the Soldier's Homepage/Michael A. Baker," without altering, to friends, groups or other ministries or to copy for similar or personal use.