Indonesia – Russia Opens the Pacific Front
David J. Jonsson
September 16, 2007
As Sun Tsu said:
"Whoever occupies the battleground first and awaits the enemy will be at ease; whoever occupies the battleground afterward and must race to the conflict will be fatigued. Thus one who excels at warfare compels men and is not compelled by other men."
"Thus the highest realization of warfare is to attack the enemy's plans; next is to attack their alliances; next to attack their army; and the lowest is to attack their fortified cities."
Vladimir Putin has the goal of reestablishing Russia as a world power and returning the world to a multi-polar world. Russia's alliance with China and Iran with their global alliances through economic and military alliances presents the strategic basis for control and the elimination of the hegemony of the United States. The alliances span both the Sunni and Shia branches of Islam as exemplified by the relations with Saudi Arabia, the Gulf States, Indonesia and Iran.
While the politicians and the press are focused on war in Iraq, scant attention is being directed to the greater geopolitical events occurring worldwide. The battleground is already being occupied by the enemies of freedom and liberty. The Russian deal to supply weapons to Indonesia descended on the APEC summit table like a slammed fist.
Russia along with their partners is utilizing alliances in the political, transportation, military, technology, economic, natural resource and energy sectors to accomplish the goal.
Russia seeks access to the Mediterranean, the Indian Ocean, the Pacific and the Caribbean.
In the space of a few years Russia has managed to create a network of relations that, at a diplomatic level, have launched the Kremlin as an irreplaceable reference point for the central-Asiatic republics, for some middle-east countries, the Pacific Basin and the Caribbean. The network of alliances between Russia, Iran, China, India, Venezuela, Cuba and now Indonesia - motivated exclusively by convenience - have produced an acceleration of economic and financial integration projects.
Past differences between Russia and the larger Asiatic nations seem now to be overcome due to the will to reach new common objectives. From this point of view, the intention of the Shanghai Pact's members of including Iran amongst the cooperation organizations, Russia and China's UNSC veto and opposition to imposing sanctions in order to discourage Teheran from pursuing the enrichment of uranium, and the profitable Russian-Iranian cooperation in economic and military fields represent the most significant examples of the sharing of political strategies that antagonize the West.
While the leaders who attended the Asia Pacific Economic Cooperation summit in Sydney in September 2007 seemed to be united in their call for action on challenging issues such as global warming and economic development, in fact a cauldron of unpredictable discord was simmering just below the surface of smiles and handshakes.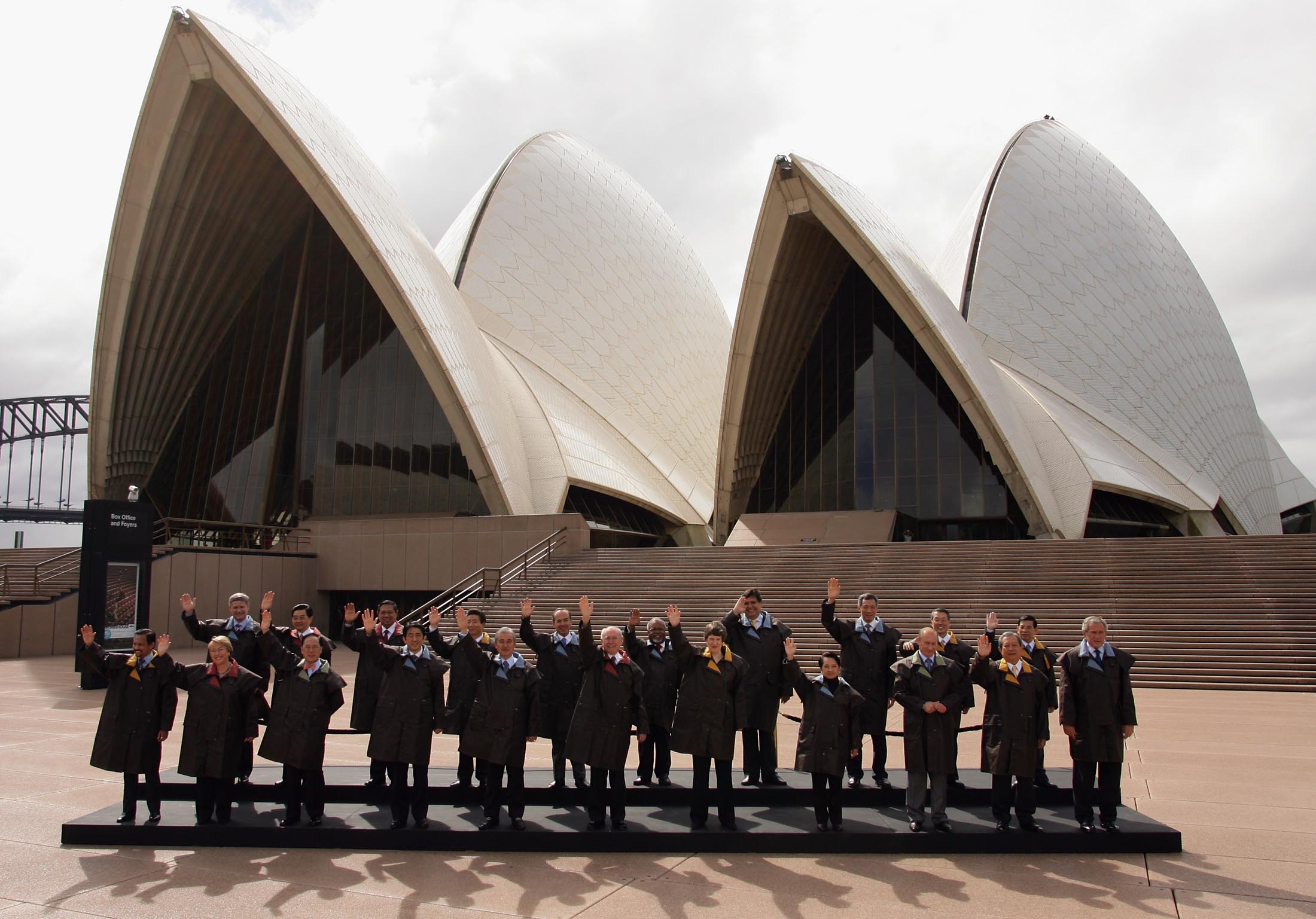 2007 APEC Leaders' Week - Sydney, Australia, September 2-9, 2007. Bush's and Putin's body language in this news photo, compared to the other representatives, is interesting. [Click to enlarge]
While Vladimir Putin arrived at the APEC meetings to open the Russian initiative in the Pacific with the signing of weapons and energy deals with Indonesia, the United States and Japan seemed intent on also creating a new military block in Asia. They have enlisted Australia, India and Singapore as their allies, and the five nations were concluding their first joint military exercises in the Bay of Bengal just as the APEC conference was winding down. In Sydney, the United States, Japan and Australia held separate security talks at which the main topic was how to engage with India.
The leading members of this alliance have described their cooperation as focused on their "common interests," and have stressed that it is not aimed against China. Yet there is little evidence to prove this argument. No one knows what scenarios will arise in the future.
Is the emerging Asian security paradigm a threat to China? "The "Malabar CY 07-2" naval exercises in the Bay of Bengal held in the first week of September, 2007 undoubtedly represent a major shift in India's strategic security perceptions. Only the US and Indian navies had been participating in the 12 Malabar series of naval exercises held usually off the west coast of India so far. But Malabar CY 07-2 is different in two ways. First, the size of it; with the participation of nearly 30 warships and 200 aircraft from five nations- Australia, Japan, India, the U.S., and Singapore – makes it the largest ever naval exercise in this part of the world. Second, in a clear departure from the past, qualitatively the exercise is trying out entirely new set of war games in the Bay of Bengal off Andaman."
The Cold War should serve as a mirror in this present situation. The confrontation between the United States and the Soviet Union in the early years of the Cold War resembles in some respects the situation that is emerging today.
The South China Sea was the scene of 13 resource-related military clashes in the 1990s, nine of which involved China.

Political Alliances

Russia – Indonesia
During a one-day visit to Indonesia on September 7, 2007 President Vladimir Putin witnessed the signing of a $1 billion arms deal that many analysts see as part of a broader Russian effort to restore diplomatic and military clout in the Asia-Pacific region and make some money, as well.
Indonesia, which until 2005 was under a U.S. arms embargo because of human rights abuses, will purchase Russian tanks, military helicopters and submarines. Last month, Russia said it would sell six fighter jets to Indonesia, the world's most populous Muslim nation, as part of the deal.
"The deals signed in Indonesia are part of a Kremlin strategy to expand its influence in Asia and the Middle East," said Alexei Makarkin, an analyst at the Center for Political Technologies in Moscow. "Russia is trying to pursue a multipolar policy in the world and considers itself to be one of its poles."
"We agreed to develop our cooperation in energy, mining, aviation and the telecommunications sector," said Putin, who stopped in the Indonesian capital, Jakarta, on his way to the Asia-Pacific Economic Cooperation summit in Australia. "There's also a good perspective in defense and military."
For Indonesia, the country's defense minister said, the deal comes with none of the strings that encumber similar purchases from the United States and Western Europe.
"Requirements for purchasing arms from Western countries are complicated, with preconditions attached, such as human rights, accountability, not to mention licensing," Juwono Sudarsono told reporters in Jakarta. "In our past experience with Britain, we were not allowed to use Scorpion tanks in Aceh, even though we were facing armed separatists."
Under Putin, Russia has become determined to project its military, diplomatic and energy power into the Pacific, an area it neglected after the fall of the Soviet Union. Besides the arms deal, Russian companies have signed billions of dollars worth of deals in the mining and energy sectors with Indonesian companies, Russian officials said.
So it seems that the likes of Indonesia is certainly being subverted into the Moscow-Beijing Axis as the likes of Comrade Czar Vladimir Putin along with Indonesian President Susilo Bambang Yudhoyono are signing at least a one billion dollar arms deal. Indonesia is one country in the South Pacific that has one of the largest Muslim populations.
Many Indonesian Muslims are being subverted to be supporting radical "Islamist" leanings through such groups such as the "al-Qaedish" Jemaah Islamiah where it's derived from the "Islamist" Darul Islam (House of Islam), and entrenched itself in the Indonesian Muslim populations since the days of the Indonesian National Revolution, where members of the Soviet-backed Socialist Party of Indonesia attempted to create an "Indonesian Soviet Republic". While the openly "Islamist" movements such as Darul Islam wanted to establish an Islamic theocracy. Even members of the Indonesian Communist Party participated, now banned from Indonesia. But Indonesia in spite of the various governments trying to lean "pro-Western", Indonesia remains a target for recruitment for the Moscow-Beijing Axis. The arms purchase provides that very case.

The Russian – China Alliance
This is exemplified initially in what was known as the Beijing-Moscow Alliance. The first-ever joint Chinese-Russian military exercises took place in Mid-August 2005.
The exercises were small in scale — but huge in implication. They indicated a further warming of the "strategic partnership" that Moscow and Beijing struck back in 1996.
More importantly, they signal the first real post-Cold War steps, beyond inflammatory rhetoric, by Russia and China to balance — and, ultimately, diminish — U.S. power across Asia. If America doesn't take strategic steps to counter these efforts, it will lose influence to Russia and China in an increasingly important part of the world.
In Russia 2007 will be the Year of China. Beijing buys 90 per cent of its military hardware from Russia and insists on building an oil pipeline between the two countries. The two parties are working together to carve out their spheres of influence in Central Asia. China accounts for 40 per cent of Russia's total military sales.
China's military needs Russian technology and the two neighbors have been quietly collaborating on ballistic missile research, nuclear technologies and space exploration. Russia and China are also seeking and obtaining western technology in a multitude of ways.
France and Germany, for example, seemed happy to allow Dubai's ruling family to buy its stake in EADS maker of Airbuses and Eurofighters. The fund will not be seeking board representation. Not that it would be able to get it. Appointing EADS directors is a privilege reserved for the members of the shareholder pact that controls 58 per cent of the shares. Rather, as with Dubai International Capital (DIC's) recent purchase of HSBC stock, the strategy is to take long-term stakes in the world's largest companies. The acquisition of shares of HSBC makes it "one of the leading shareholders" in HSBC, Europe's biggest bank. DIC is the private-equity arm of conglomerate Dubai Holding, founded by Sheikh Mohammed bin Rashid Al Maktoum, who is prime minister and vice president of the United Arab Emirates and ruler of Dubai.
Political considerations cannot be ruled out though. The 5 per cent stake in EADS held by Russian bank VTB looks to be aimed partly at winning sub-assembly work and hence technology transfer for Russia. There are signs that Qatar and China may also seek a closer relationship too. For Dubai, the inside track on EADS-owned Airbus wouldn't hurt. Airbus is the main supplier of aircraft to the Emirates airline and Dubai is hoping to expand its position as a major aircraft maintenance hub.
Similarly, in the last few months Russia and China have adopted similar positions on several issues in opposition to the United States, and their relationship is taking on greater weight, especially at the regional level.
For example, whilst Washington has threatened Iran with sanctions if it does not give up its nuclear program, Beijing and Moscow have threatened to use their veto power to block them if they come up at the United Nations.
On September 10, Russian President Vladimir Putin arrived in the Emirates' capital Abu Dhabi on Monday morning for what is his first official visit there in the 35 year history of Russian-Emirates relations.
"Putin's historic visit to the UAE is part of Russia's stated intention of bolstering ties with Arab and Muslim countries," the main daily English language newspaper Gulf News reported Monday and added that trade exchange between Russia and Emirates is expected to reach a record US$800 million this year.
The two sides will "naturally, discuss the military-technical cooperation," Russian presidential aide Prikhodko said without providing details, but suggested that the Emirates might be interested in Russian air defense weapons.

The Russian - China - Iran alliance
The cooperation between Moscow and Teheran in a variety of important sectors is becoming more and more intense but is far from representing an exclusive partnership, Moscow's aim is to develop a network of alliances, China and India, in order to propose a valid alternative to US economic and political hegemony.
A TEHRAN MOSCOW BEIJING AXIS AGAINST THE WEST on GlobalSecurity.org 3 September 2001, Volume  4, Number  33 reported: Expediency Council Chairman and former President Ayatollah Ali Akbar Hashemi-Rafsanjani described trilateral cooperation between Moscow, Tehran, and Beijing as "strategic" during a meeting with the new Russian ambassador, Aleksandr Maryasov, according to state television on 13 August. He added that this three-way cooperation could serve as a counterweight against the West and the U.S., and it would alter international conditions, according to IRNA.
On September 4, 2007 Iran's influential Assembly of Experts elected Akbar Hashemi Rafsanjani as its chairman in a move that could strengthen the pragmatic former president's position in the political hierarchy. "Legally speaking, Mr. Rafsanjani is now in a higher position than Ayatollah [Ali] Khamenei [the supreme leader] but it is early to say how he will use this position," said Ahmad Zeidabadi, a political analyst.

Red World: Venezuela, Latin America's newest socialist republic moving is toward single-party dictatorship and strategic partner of Moscow, Beijing, Tehran and Havana
The Caribbean provides access to the soft underbelly of the United States and is another strategic choke point for shipping to the US.
Chavez is chummy with almost anyone who opposes the U.S. -- plain and simple. Some of these ties are quite troubling. He clearly idolizes Castro the most, inspiring some to dub him Castro's Mini-Yo (Mini-Me).
Venezuela is helping to keep the failed Cuban system on life support by providing some 50,000 barrels of oil per day at concessionary prices in exchange for a bevy of Cuban teachers, doctors and sports instructors. Chavez seems willing to increase oil deliveries to Cuba with every photo op he gets with his valued mentor and strategic adviser, Castro, to burnish his leftist Latino credentials. As such, some expect oil deliveries to Cuba to double this year.
But Cuba is also providing intelligence and security officers to Venezuela. They've helped Chavez develop an improved intelligence capability -- and undermine the political opposition in true Cuban style.
Cuban military advisers are also present, making Venezuelan officers increasingly anxious about the creeping influence of Havana in military matters. Caracas is also sending officers to Cuba for training -- and, undoubtedly, political indoctrination.
Like Castro, who partnered with the Soviet Union during the Cold War, Chavez is making common cause with other American enemies -- including the world's most active state sponsor of terrorism, Iran.
Chavez meets with Iranian president Mahmoud Ahmadinejad regularly in Venezuela and Iran. Last year, they revealed plans for a $2 billion joint fund, part of which will be used as a "mechanism for liberation" against U.S. allies. The concern in the relationship is Caracas may be looking to Tehran for help with a so-called "peaceful" nuclear program. In addition to supporting Iran's nuclear bid in international forums, Chavez has publicly expressed interest in nuclear energy.
Thankfully, other regional states with civilian nuclear power programs, such as Argentina and Brazil, have shunned Venezuela, seeing helping Chavez as risky. But Iran, ever eager to keep the U.S. off-balance, might just be willing to lend a hand.
And don't forget about (already) nuclear North Korea. Venezuelan and North Korean military delegations have traipsed back and forth on numerous occasions between Caracas and Pyongyang. Both sides deny anything other than routine exchanges. Although nothing has yet materialized, North Korean ballistic missiles could be on Venezuela's shopping list. Pyongyang is the world's most prodigious proliferators of missiles; Venezuela might be in the market for short-range Scuds or medium-range No-Dongs. With North Korea possibly backing down on their nuclear enrichment activities, only time will tell how these relations will develop.
The potentially unemployed North Korean scientists may find a new life in Iran, Syria or Venezuela.
Venezuela isn't known to be supporting Islamic terrorism -- at the moment. But it does seem to turn a blind eye, at a minimum, to the FARC and ELN narco-terrorists and other regional paramilitary groups that cross the border to regroup and resupply in Venezuela.
Support, of course, in the future may go well beyond the provision of safe haven. Venezuela has been accused of providing both the FARC and ELN with older-model small arms and ammunition.
The U.S. Drug Enforcement Administration (DEA) believes Venezuelan airports and ports have become major cocaine trafficking routes from Colombia into the Caribbean, and onward to both the U.S. and Europe.
Although not pointing a finger at the central government, the DEA believes that these drug flights to the Caribbean from Venezuela have doubled in recent years. Counterpunching, Chavez recently charged the DEA with trafficking drugs.
With these economic ties, the People's Republic is also building military and political ties in the Latin world -- especially with regimes like Venezuela's Hugo Chavez which are hostile to U.S. policies.
One of the most eye-popping elements of Chavismo is Venezuela's arms purchases. Flush with oil profits, Chavez, a former army lieutenant colonel, has been buying as much shiny military hardware as possible.
Since 2005, he's spent more than $4 billion on foreign weapons, making tiny Venezuela one of the world's most aggressive arms purchasers. In 2006 alone, arms spending was up 13 percent, according to some estimates.
Venezuela is China's closest political ally in South America and has the most extensive military cooperation with the Chinese in Latin America outside of Cuba. It has bought three JYL-1 mobile air defense radars and is looking at also buying fighter jets from China.
In March 2007, Li Changchun, a member of the Standing Committee of the Political Bureau of the CPC Central Committee, visited senior Venezuelan officials to exchange ideas on the development of bilateral relations with Venezuela. Li met Hugo Chavez, the president of Venezuela, in the Miraflores presidential palace. There he said that since the establishment of the China-Venezuela strategic association, and especially in recent years, relations had entered a new phase characterized by frequent high-level visits, growing political trust and collaboration. This is the first high-level official visit by a Chinese official since Zeng Qinghong, China's vice-president, visited Venezuela in January 2005.
He added that China is certain that cooperation to the benefit of both nations is in the fundamental interest of both nations, and that China seeks to increase strategic consensus with Venezuela.
He also said that the CPC regards exchanges with the Fifth Republic Movement party, founded by Chavez, as very important and called for closer cooperation between the two. Li and Chavez signed economic and technological cooperation.
Venezuela and China created a US$6 billion (euro4.5 billion) fund on March 26, 2007 to boost energy cooperation and finance joint development projects between the two countries. The fund - aimed at increasing Venezuelan oil exports to China from 150,000 to 800,000 barrels a day - was part of a series of agreements signed following a meeting between Chavez and Li Changchun,
"We have brought bilateral relations to a strategic point," Chavez said. "I don't think China has made a decision like this with any other country in half a century. We must thank them for their trust."
Venezuela will invest US$2 billion (euro1.5 billion) in the fund, which will also be used to build railroads, telecommunications networks and shipyards in the South American country, while China will allocate US$4 billion (euro3 billion) for the fund.

Under Chavez, Venezuela - one of the world's largest oil exporters - has fostered increasingly close ties with China as it seeks new markets for its petroleum beyond the United States - its top buyer. China is the world's second-largest consumer of oil and third-biggest importer.
Venezuela's state oil company Petroleos de Venezuela SA, or PDVSA, plans to spend US$2.2 billion (euro1.66 billion) to more than triple its fleet of tankers by 2012 to reach remote Asian markets.
Venezuela exports about 15 percent of its crude and other oil products to Asia but seeks to raise that to 45 percent - approximately 1 million barrels a day - within five years. Such a shift would significantly impact US supply.
Venezuela says it produces about 3.3 million barrels a day, but many outside sources - including the International Energy Agency, the Organization of Petroleum Exporting Countries, and the U.S. Energy Information Agency - put actual production closer to about 2.5 million barrels a day.
On September 11, 2007 Petróleos de Venezuela, the state-owned oil company agreed that China National Petroleum Corp. will invest more than $10 billion in a heavy-oil venture in Venezuela's Faja del Orinoco region. The venture is intended to produce as much as a million barrels a day in the region, PDVSA said on its web site Tuesday, citing a statement by Rafael Ramirez, the minister of energy and oil.
President Hugo Chavez has pledged to increase oil exports to China as part of his effort to reduce reliance on the U.S. market and to cement ties with countries with what he says are compatible ideologies.

Iranian Alliances
Iran, either independently or in concert with Russia has also extended their global alliance network. Iran is a supporter of Hezbollah in Lebanon, Hamas in Palestine and Syria effectively stretching their influence to the Mediterranean. As also noted, Iran is active in Venezuela and Cuba. Hezbollah cells also operate in the US.
Iran is seeking relations with Turkey.  In the Qandil (Kandil) Mountains, where Turkey, Iran, Iraq, and Syria all meet lies the ancestral homeland of the Kurds, known in history as the Medes, who were partners with Persia in defeating Babylon.
Ancient Babylon, celebrated as a fount of law, writing and urban living, sits just outside the modern-day city of Hilla, about 60 miles south of Baghdad. Hilla is neither haunted by Sunni insurgents nor overwhelmed by Shiite militias. And though it has a mix of Shiites and Sunnis, it has not been afflicted by the sectarian violence that has paralyzed so many other heterogeneous parts of Iraq.
You can imagine my interest, therefore, in a front-page story  on April 18, 2006 "Babylon Awaits an Iraq Without Fighting" in the New York Times that reported the following: "Babylon, the mud-brick city with the million-dollar name, has paid the price of war. It has been ransacked, looted, torn up, paved over; neglected and roughly occupied….But Iraqi leaders and United Nations officials are not giving up on it. They are working assiduously to restore Babylon, home to one of the Seven Wonders of the World, and turn it into a cultural center and possibly even an Iraqi theme park."
Over the years, colonial powers took artifacts and Saddam Hussein built on Nebuchadnezzar's palace. Then, the Iraq war. Famous sites, like the Tower of Babel and the Hanging Gardens, are swallowed up by river reeds.
The mayor of the area says, God willing, they will even put up a Holiday Inn.

"The United Nations Educational, Scientific and Cultural Organization is pumping millions of dollars into protecting and restoring Babylon and a handful of other ancient ruins in Iraq," noted correspondent Jeffrey Gettleman. "UNESCO has even printed up a snazzy brochure, with Babylon listed as the premier destination, to hand out to wealthy donors."
Turkey has been legitimately afraid that in return for Kurdish assistance in deposing Saddam Hussein (it was the Kurds who located Saddam and tipped off US troops) the US would permit at least unofficial attempts to establish a Kurdish homeland on land that Turkey claims.  Turkey has maintained up to 20,000 troops on its border with Iraq to prevent such a move.
And in fact the US has been vacillating on the Kurdish issue, even publishing a map of the region showing the presence of a Kurdish entity.  US officials later claimed it didn't accurately reflect US policy.  Turkey is skeptical.
Iran sees this situation as an opportunity to further strengthen its regional position and has teamed up with Turkey to assist in removing a force of 5000 Patriotic Union of Kurdistan (PUK) soldiers from the area where Iran abuts Iraq in the Qandil Mountains.  According to several news and intelligence sources they already have positioned troops some 7-8 km inside Iraq and have begun shelling the mountain hideouts.  The situation for Turkey offers some big incentives.  Not only do they get help in spanking the PUK, but have made it known that they have their eye on Kirkuk, an Iraqi city in the area that produces 40% of Iraq's oil output, and that Turkey had made claim to before. 
For its part Iran also sees a chance grab a chunk of Northern Iraq for itself.  In addition Iran wants to destroy forward intelligence positions the Israelis may have secretly placed among the Kurds to help them receive the earliest possible warning of an Iranian attack on Israel. Knocking out these posts would give the Iranians two significant victories against the Israelis within the span of just a few months, the war in Lebanon being the other.  The loss of this intelligence would no doubt reduce the possibility for a successful US-Israeli attack against Iran, too. 
Many observers believe it's already too late to stop the Turkey-Iran initiative.  The question is whether it will blossom into yet another Mid-East war pitting the US, Iraq, and Israel against Iran, Turkey, and possibly Syria.
On March 31, 2007, In Overture to Iran, Qaddafi Declares North Africa Shi'ite and Calls for Establishment of New Fatimid State (MEMRI Special Dispatch Series – No 1535 of April 6, 2007). Libyan leader Mu'ammar Qaddafi called, in a speech in Niger to Tuareg tribal leaders, for the establishment of a second Shi'ite Fatimid state in North Africa, after the model of the 10th-13th century empire that ruled North Africa, Egypt, and parts of the Fertile Crescent. In his speech, Qaddafi denounced the division of Muslims into Sunni and Shi'ite as a colonialist plot, and rebuked the Arab League members for "hating Iran."

Military Alliances
Military cooperation is an instrument for containing the US hegemony in the region

Russia
This year, Putin signed a $200 billion, seven-year rearmament plan for Russia's military. The package includes money for the Pacific Fleet, a major Pacific submarine base and new land and sea-based intercontinental missiles. Last month, Russia resumed global patrols by its long-range strategic bombers, sending two of them far across Pacific Ocean waters to the vicinity of Guam Island, site of a major U.S. base.
These actions are consistent with Russian strategy for opening the Pacific Front and military alliance with Indonesia. It should be noted that this also places Russia and China into potential conflict in the Pacific Basin.
On September 6, 2007, Britain and Norway scrambled jets to trail Russian bombers conducting the new patrols. The Russian Defense Ministry described the flights by eight strategic bombers as a "routine exercise" and said that although the aircraft had encountered planes from NATO countries, there were "no incidents."
Last month, Russia conducted a joint military exercise with China, one of its major arms customers. And it has made or is negotiating other arms deals across Asia, including with India, Malaysia, Burma and Vietnam.

Collective Security Treaty of Organization (CSTO) and Shanghai Cooperation Organization (SCO)
Some observers remain skeptical that Russia will become a major competitor of the United States and, increasingly, China for influence in the region.
Far from being an isolated phenomenon of bilateral cooperation, the Moscow-Teheran axis in the defense sector results as being part of a wider Euro-Asiatic security network that aims to involve other minor regional states such as Kazakhstan, Kyrgyzstan, Tajikistan, Azerbaijan, Uzbekistan, Armenia, and Byelorussia. These states are united in the Collective Security Treaty of Organization (CSTO), ratified in 1992, and in the Shanghai Cooperation Organization (SCO), composed of Kazakhstan, Kyrgyzstan, Tajikistan, Uzbekistan, Russia and China. Iran is not a member of the CSTO but participates as an observer. Relations between Teheran and the CSTO are, however, helped by Beijing's mediation, former member of the SCO and strategic partners of the CSTO. As can be seen from the complex structure of alliances, Moscow aims to build a security and defense network in the Asian region involving Iran as potential 'containing' factor against US influence.
CSTO is a military-political alliance and the SCO is economy-powered. Together, the CSTO and the SCO account for about half the global population and are increasingly keeping up with the U.S. and NATO in terms of leverage in the UN and elsewhere, to the shock and ire of many politicians there. Signatories to the CSTO wouldn't be able to join other military alliances or other groups of states, while an aggression against one signatory would be perceived as an aggression against all.
If on the one hand the Islamic Republic represents a means for the Asiatic states to exert pressure over the Western ones, on the other hand the intense military cooperation is a sign that an eventual attack against the Islamic Republic could easily bring about a wider military conflict.

Venezuela
One of the most eye-popping elements of Chavismo is Venezuela's arms purchases. Flush with oil profits, Chavez, a former army lieutenant colonel, has been buying as much shiny military hardware as possible.
Since 2005, he's spent more than $4 billion on foreign weapons, making tiny Venezuela one of the world's most aggressive arms purchasers. In 2006 alone, arms spending was up 13 percent, according to some estimates.
Some analysts project that if oil prices remain high, say, at more than $50 a barrel, Venezuela could spend as much as $30 billion on arms by 2012, the end of Chavez's third term in office. Caracas is already the largest arms buyer in the region -- and is expected to be so for the foreseeable future.
Russia is Chavez's favorite arms outlet. Having spent more than $3 billion, Caracas is already under contract to buy 24 Su-30 fighters, 50 helicopters/gunships and 100,000 AK103 (AK47 follow-on) assault rifles from Moscow. It has also inked a deal to build the Kalashnikov rifle under Russian license in Venezuela.
Caracas is also interested in Russian air defense systems and diesel submarines, which Moscow would likely be more than happy to provide. In addition to Russia, Venezuela has had preliminary discussions with Belarus and Iran about surface-to-air missile systems.
As few as nine diesel submarines, which could also be provided by Germany or France, would make Venezuela the proud owner of the region's largest submarine fleet, withstanding the U.S., of course. Venezuela has also sought arms from Spain, Sweden and Brazil, which have declined for the moment as a result of U.S. pressure over tech transfer issues. As China develops its advanced weapons industry, it will likely become a source for Venezuela's military.

Energy the Oil Weapon

Indonesia
A series of contractual production-sharing and long-term-supply spats pitting the Indonesian government against multinational energy companies and big natural-gas importers in Japan has recently tarnished Indonesia's reputation as a reliable business partner. It has also undermined the gas sector's overall earning potential -- crucially at a time when global prices have surged to near-record highs.
Indonesia has some of the largest known pools of natural gas in the world, with total estimated reserves of 187 trillion standard cubic feet (scf), according to the Energy Ministry. Local gas production in 2006 amounted to 8.1 billion scf per day, of which 46% was dedicated to domestic demand for power generation, fertilizer production and other industries, while the rest was exported mainly as liquefied natural gas (LNG).
Significantly, Indonesia's deep pools remain largely unexploited and rising global energy prices have substantially upped the market incentive to drop new wells. That's apparently what French oil giant Total SA, currently one of Indonesia's largest gas exporters, assumed when it announced last week plans to invest US$6 billion over the next five years in its existing operations at the Mahakam Delta oil-and-gas block in remote East Kalimantan province.
Yet no sooner had Total announced its investment plans when Mines and Energy Minister Purnomo Yusgiantoro said the government would likely seek to amend the company's existing production-sharing contract, including the agreed 70%-30% government-contractor split over revenues, which is to expire in 2017. The minister said the amendments to the contract would seek "what's best for Indonesia".
For more than 25 years Indonesia, through Pertamina, dominated the region and led the global LNG market as the world's largest exporter. But a number of nationalistic policy signals have recently alienated new foreign investors and inhibited the country's ability to tap new supplies efficiently. Last year, Qatar bypassed Indonesia as the world's largest LNG exporter.
This year the government has said it will slash LNG exports to traditional major buyers in Japan and South Korea (currently the world's two largest LNG importers) and also to Taiwan from the contracted 26.4 million tons down to 21.4 million tons. Jakarta has also said it cannot guarantee a contractual extension to supply 12 million tons annually to Japan's Kansai Electric Power, Chubu Electric, Kyushu Electric, Osaka Gas, Toho Gas and Nippon Steel Corp when the deal runs out in 2011. Tokyo Electric Power Co, Japan's biggest electric utility, has recently said it will not renew its long-term agreement to purchase LNG from Indonesia when it expires in 2009.
With Indonesia slashing exports to Japan, South Korea and Taiwan according to this article….South Korea is one of the biggest importer of Natural Gas in the world, they face serious implications if the LNG supply is disrupted in anyway.
Japan LNG Supply

LUKoil and the Indonesian state-owned oil company PERTAMINA have signed an agreement to explore some potential fields on the republic's territory, the Russian oil giant's press office reported. The document was signed in Jakarta during Russian President Vladimir Putin's visit to the Republic of Indonesia.
The agreement specifies the companies' joint operations for the next two years and involves formation of a steering committee and a joint technical group. The document promotes collaboration between LUKoil and PERTAMINA, which shows great promise and paves the way for a strategic alliance for developing joint projects in oil and gas exploration and production, LUKoil President Vagit Alekperov said.
Be prepared.
With the LNG supply for Japan mostly from Islamic countries including Indonesia, Japan needs to be concerned about its energy security. China and South Korea also face similar security issues.

Venezuela
Venezuela is the world's eighth-largest oil exporter. In addition, it may have the world's fifth-largest known oil reserves, meaning it has more petroleum potential than any country in the Western Hemisphere. Not a dubious honor, by any means, these days.
Some experts believe the Orinoco Belt, an energy-rich region southeast of Caracas, has as much -- or more -- energy potential than Saudi Arabia, a country known to possess 25 percent of the world's known oil reserves.
Unfortunately, the U.S. likes its Venezuelan heavy crude oil. Venezuela is the United States' fifth-largest foreign oil supplier, providing 10 percent to 15 percent of our oil imports at roughly 1.5 million barrels a day.
The U.S. imports more than 60 percent of its oil, making our economy vulnerable to shocks in the international energy market. Chavez knows this. He once said: "We have invaded the United States, but it's with our oil."
Chavez has vowed to use oil as a weapon, promising to play his "strong oil card" to "finish off the U.S. Empire." On May 1, he got started on his plan by announcing his intention to nationalize Venezuela's oil industry.
Venezuela is now in the process of transitioning from dependence on the long-dominant western energy firms, including some American, to ownership by the state-owned oil company, Petroleos de Venezuela (PDVSA).
Although this move is not promising for American energy security, it is fortunate that Venezuelan oil is of the heavy crude variety. It's highly acidic and difficult to refine. That's good news for the U.S. Why? At the moment, most of the oil refineries capable of processing Venezuelan heavy crude oil happen to be in the U.S., because Caracas has failed to invest sufficiently in petroleum processing capabilities. This may change with China's commitment to invest in the refinery sector.
Venezuela sends the majority of its petroleum exports, about 60 percent, to the U.S. So, in the short-term, cutting off oil shipments to America would be, at best, a pyrrhic victory for Chavez because he needs access to American refineries -- and so does his Bolivarian revolution.
In the longer term, that situation may change drastically. Caracas may, over time, develop domestic refining capability for its heavy crude oil -- and look elsewhere for eager buyers of its thick, black gold. Indeed, it already is.
Enter China, another of Venezuela's new extra-hemispheric friends. China is now the world's second-largest consumer of energy -- and imported oil, too. And Beijing is eager to find new energy sources.
With no Pacific seaports to transport oil from, it costs about $15 more per barrel to transport oil to China from Venezuela. Despite this, China is now the fastest-growing destination for Venezuelan oil.
Eager to buy oil that might otherwise be bound for the U.S., China is working on significant investments in the Venezuelan energy sector, including developing heavy crude refineries there.
Chavez doesn't just use oil as a foil against enemies like the U.S. He also uses the windfall profits to help friends, including other regional leftist politicians running for election, especially high office. For example, he unabashedly bankrolled successful presidential candidates in Bolivia (Evo Morales), Nicaragua (Daniel Ortega) and Ecuador (Rafael Correa). To Chavez's disappointment, his candidates fell short in Peru and Mexico.
Chavez is using the expropriation of Venezuelan energy assets as a means of consolidating not only his political power at home, but projecting power abroad as well through arms purchases, political campaigns and manipulating oil markets.
But the real question is whether PDVSA, an increasing source of Chavez's revenue -- and thereby his influence -- can actually handle the departure of Western oil firms and their highly skilled technocrats. Early indicators aren't good. It's risky. At the moment, oil typically generates 80 percent of the country's export income, provides more than half of the central government's revenue, and is responsible for about one-third of the country's gross domestic product.
In the end, Hugo Chavez defines himself in opposition to the U.S. His agenda -- a troubling military buildup, connections with countries of concern, political meddling abroad and oil machinations -- is bad news for everybody.
As the director of national intelligence testified to Congress in February: "Chavez is among the most stridently anti-American leaders anywhere in the world, and will continue to try to undercut U.S. influence in Venezuela, in the rest of Latin America and elsewhere internationally."
Chavez clearly plans to challenge the status quo, wielding a multifaceted, asymmetric campaign akin to a political, economic, security and social insurgency in Latin America and the Caribbean at the expense of the United States' influence and interests.
It's tempting to write off Chavez simply as Latin America's latest tin-pot strongman, but he shouldn't be taken lightly. Venezuela's Chavismo has the potential to cause real trouble for the U.S. and Latin American democracies.

Control of Transportation Routes 

China and Potentially Russia and Islamists Seek to Build a Sea-lane Denial Capability
The threat to China is the U.S. Navy. If the United States wanted to break China, its means of doing so would be naval interdiction. This would not have to be a close-in interdiction. The Chinese import oil from around the world and ship their goods around the world. U.S. forces could choose to stand off, far out of the range of Chinese missiles -- or reconnaissance platforms that would locate U.S. ships -- and interdict the flow of supplies there, at a chokepoint such as the Strait of Malacca. Over 50% of the world's cargo passes through these straits. This strategy would have far-reaching implications, of course: the Malacca Strait is essential not only to China, but also to the United States and the rest of the world. But the point is that the U.S. Navy could interdict China's movement of goods far more readily than China could interdict American movement of goods.
For China, freedom of the seas has become a fundamental national interest. Right now, China's access to the sea-lanes depends on U.S. acquiescence. The United States has shown no interest whatsoever in cutting off that access -- quite the contrary. But China, like any great power, does not want its national security held hostage to the goodwill of another power -- particularly not one it regards as unpredictable and as having interests quite different from its own. The issue is increased Chinese nationalism, which we discuss later.
To put it simply, the United States currently dominates the world's oceans. This is a source of enormous power, and the United States will not give up that domination voluntarily. China, for its part, cannot live with that state of affairs indefinitely. China may not be able to control the sea itself, but it cannot live forever with U.S. control. Therefore, China requires building a sea-lane-denial strategy.
It is important to recognize that the Islamists, Russia or China controls all oil transit choke points. Over 40 million barrels per day of oil moves by tanker, in many cases though World Oil Transit Chokepoints. Bab el-Mandab-- Djibouti/Eritrea/Yemen; connects the Red Sea with the Gulf of Aden and the Arabian Sea. 3 million-bbl/d flows through this choke point. Suez/Sumed-- Egypt; connects the Red Sea and Gulf of Suez with the Mediterranean Sea. Oil Flows (2004E): 3.8 million bbl/d northbound, and 0.4 million bbl/d southbound. Northbound shipments consisted of 2.5 million bbl/d of crude oil via the Sumed Pipeline (nearly all of which came from Saudi Arabia), 0.8 million bbl/d of crude oil via the Suez Canal, and 0.5 million bbl/d of petroleum products via the Suez Canal. Southbound oil flows through the Suez Canal totaled 0.3 million bbl/d of petroleum products, and 0.1 million bbl/d of crude oil.
The Strait of Malacca, linking the Indian and Pacific Oceans, is the shortest sea route between the Persian Gulf and Asian markets, including three of the world's most populous countries -- India, China, and Indonesia -- and therefore is considered to be the key choke point in Asia. The narrowest point of this shipping lane is the Phillips Channel in the Singapore Strait, which is only 1.5 miles wide at its narrowest point. This creates a natural bottleneck, with the potential for a collision, grounding, or oil spill (in addition, piracy is a regular occurrence in the Singapore Strait). If the strait were closed, nearly half of the world's fleet would be required to sail further, generating a substantial increase in the requirement for vessel capacity. All excess capacity of the world fleet might be absorbed, with the effect strongest for crude oil shipments and dry bulk such as coal. Closure of the Strait of Malacca would immediately raise freight rates worldwide. More than 50,000 vessels per year transit the Strait of Malacca. With Chinese oil imports from the Middle East increasing steadily, the Strait of Malacca is likely to grow in strategic importance in coming years.
Crashing into the middle of this APEC meeting came Vladimir Putin, a bear at a picnic, a witch at the christening. The Russian came to Sydney from Jakarta. There, he formalized a deal to sell Indonesia submarines, tanks and aircraft worth more than a billion dollars.
The deal would give Indonesia a big strategic step-up. And it moves Indonesia away from the West and closer to the Russian sphere of influence. Japan immediately asked for an explanation.
"Any country that makes such a big deal should explain why it's important for their security and how they assess the security situation around their country," the spokesman for Japan's Ministry of Foreign Affairs, Mitsuo Sakaba, said in Sydney. "They should explain their intentions."
Under questioning at a press conference in Sydney yesterday, Mr. Putin defended the sale: "These are legal and open transactions and they lead to no negative consequences in the world; they do not somehow disturb any balance."
Australian experts disagree. Dr. Alexey Muraviev, a strategic affairs analyst at the Curtin University of Technology, said that despite the public assurances by Mr. Putin and the Australian Government about the specter of a regional arms race, and despite the submarines the Russians will sell Indonesia not being quite as good as Australia's Collins Class subs, the subs presented "a security challenge to the Royal Australian Navy".
"It may certainly be a challenge to our anti-submarine warfare capabilities." Dr. Muraviev says.
"Well, we now have a region where China, India, Pakistan, South Korea, Malaysia, Singapore and now Indonesia are modernizing their submarine forces. So much for politicians with short-term vision."
Indonesia's naval capability is a first-order strategic concern because the Indonesian archipelago itself is a first-order strategic concern.
The country sits astride one of the world's vital strategic shipping routes, the Strait of Malacca. A quarter of all global oil shipments pass through the strait, including most of the oil needed to fuel the Japanese and South Korean economies. About 40 per cent of Australia's exports pass through the strait. And further, Indonesia is a major suppler LNG for Japan, China and South Korea. A submarine fleet, whether it is from Russia, Indonesia or China presents a major issue in the Pacific.
Like the Suez and the Panama canals, the Malacca Strait is one of the world's primary strategic choke-points.
The Russian deal with Indonesia descended on the APEC summit table like a slammed fist.
It reminds us that the Asia-Pacific is a region seething with rivalries. Thrusting great powers are competing for influence. Dozens of conflicting territorial claims remain unresolved. A competition for resources is accelerating. An arms race is afoot. Worse, a nuclear arms race is under way in the region. And the Asia-Pacific, unlike Europe, has no mechanism for dealing with these tensions.
While Europe has developed a system for sharing sovereignty and avoiding armed conflict, the basic impulse of the Asia-Pacific states is unchanged from the slogan that summarized Japan's national aims in the Meiji era 150-odd years ago: "Rich country, strong army."
Suddenly, the "new security agenda" dominating APEC, while still important, looks decidedly thin. The old security agenda is stridently and aggressively alive.
China is a rising great power, with a booming economy and a vast thirst for resources. It has territorial disputes with Indonesia, Malaysia, the Philippines and Thailand, among others, all with overlapping claims on the oil-rich sea-bed of the South China Sea.
These disputes are dormant but unresolved. The South China Sea was the scene of 13 resource-related military clashes in the 1990s, nine of which involved China.
Beijing has since adopted a more conciliatory posture, but in the meantime it is investing in a big defense build-up.

Maintain Control of Russia
To maintain the Putin legacy, he must control the continuation of his policy. Putin took the first steps on September 12, 2007 when he dismissed his entire cabinet. He nominated a relative unknown to the speaker of State Duma - Victor Zubkov, head of the country's money-laundering watchdog agency.
Since 2001, Victor Zubkov has been the head of Russia's Federal Financial Monitoring Service in 2001, a body dedicated to rooting out money-laundering operations. It was through this organization that Putin gained control of energy and natural resources of Russia.
As such, he has been one of Mr. Putin's key allies in the battle to control Russia's oligarchs, the powerful magnates who had made their fortunes during the market free-for-all which typified the era of Boris Yeltsin.
The two men first worked together in the city administration of the president's native city, St Petersburg, in the 1990s.
From 1991 to 1993, Mr. Zubkov was deputy chairman of St Petersburg's committee on external relations, while Mr. Putin was chairman.

David J. Jonsson is the author of Clash of Ideologies —The Making of the Christian and Islamic Worlds, Xulon Press 2005. His new book: Islamic Economics and the Final Jihad: The Muslim Brotherhood to the Leftist/Marxist - Islamist Alliance (Salem Communications (May 30, 2006). He received his undergraduate and graduate degrees in physics. He worked for major corporations in the United States and Japan and with multilateral agencies that brought him to more that fifteen countries with significant or majority populations who are Muslim. These exposures provided insight into the basic tenants of Islam as a political, economic and religious system. He became proficient in Islamic law (Shariah) through contract negotiation and personal encounter. David can be reached at: djonsson2000@yahoo.co.uk
---

This Page
---


---


 BACK to America At War - Salem The Soldier's Homepage